The Masked Singer: Who is the latest celeb to leave?
If you don't want to find out what happened during the second episode of the weird and wonderful show, The Masked Singer, then look away now as this page contains spoilers!
Ok, here we go!
Firstly, if you are not sure what The Masked Singer is, a panel try to guess the identities of 12 mystery celebrity singers dressed in wild costumes.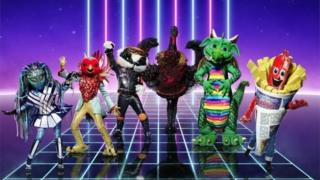 ITV
Next week, will we get to see the face behind the sausage…?
Read our full guide to this series here.
During Saturday night's show, we saw some surprising performances from the six contestants, including an intimidating-looking Viking with the voice of a softly whispering angel!
There were loads of amazing costumes, including the elegant and colourful Harlequin, the very cute Bush Baby, and the tall and moustached Grand Father Clock! Plus, a pink and…